Her Group AB is an investment company by women for women, founded by Her Group Invests. We invest in products and services that strengthen women and female ownership to create a more equal business life.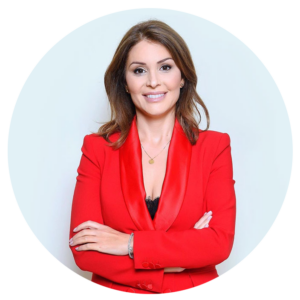 Christina Saliba
Christina Saliba were born and raised in Libanon and moved to Sweden and started her career. Christina is a business leader in the PR industry and has on numerous occasions topped the Swedish media industry magazine Resumé's list of Sweden's most powerful PR profiles. She has furthermore landed on the Swedish business media Veckans Affärer's super talent list and been placed on the leadership magazine, Ledarna's list of future female leaders. She is the founder of Hedda Care and Her Group and also co-founder and co-owner of the communications group BBS Group.
Christina has a big love of Lebanon and there are so many investment oppertunertis to be made there. It is the hub for the Middle east with a target group over half a billion. World wide there is over 500 millions speaking arabic people. I want to bo the link to empower my country and for companies to do business in a region where they well get the best talents.